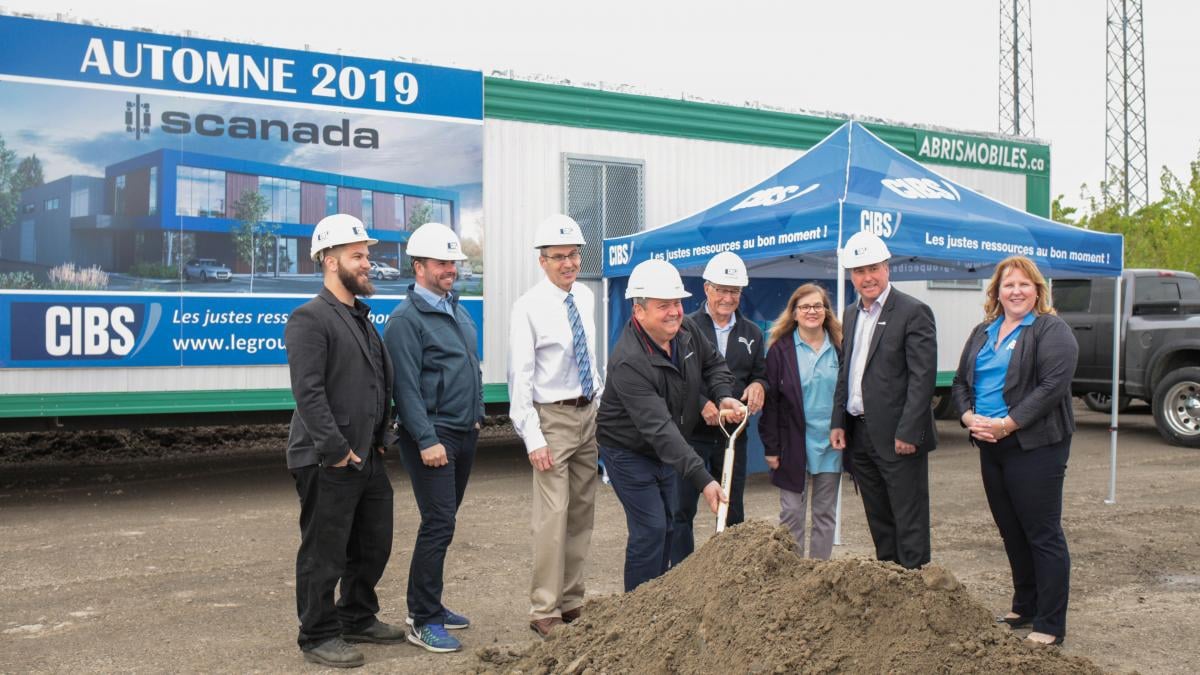 SCANADA GROUNDBREAKING CEREMONY
May 27th 2019 – First sod turning took place today for the future location of Scanada Group. M. Hans Vikstrom has retained the services of Groupe CIBS for planification, management and construction of his project. SCANADA offers slipform, heavy lift and engineering services. With its various projects among which the CN Tower in Toronto, the Shard skyscraper in London or the Oseberg A Platform in the North Sea, Scanada Group is a globally recognized company.
Their future 18,125 sq. ft. building will be located on a 102,870 sq. ft. land on Arthur Sicard street in Mirabel. More than 12,000 sq. ft. are meant for the machining workshop and the balance for administrative offices.
For this special day, the president, M. Vikstrom, has granted leave to his employees in order that they may join him in this celebration.
People present:
• M. Hans Vikstrom, SCANADA president
• M. Thor Vikstrom, SCANADA founder
• M. Anders Vikstrom, SCANADA New Hampshire Vice-president
• Mrs. Anna Vikstrom, shareholder Scanada
• Jean Bouchard, Mirabel mayor
• Gilbert Leblanc, Economic Development Director
• Geneviève Brault-Sabourin, Mirabel Chamber of Commerce and Industry general manager
• Robert Perrier, political staffer for Sylvie D'Amours, provincial deputy
• Simon Marcil, Mirabel federal deputy
• Alexandre Papin, Groupe CIBS president
• Danielle Bernier, Groupe CIBS business development
• SCANADA family, friends and employees